As we close the tumultuous chapter that was 2020, it's exciting to look ahead to a new year, full of opportunity and fresh starts. We're already planning projects and looking at what home design trends will be top of mind — but not before reflecting on what we loved about styles this year. Here, a look back at three trends we loved, and three we're looking forward to.
3 Design Trends We Loved in 2020
These aren't going anywhere, either! Expect to see more in 2021.

Wood Kitchens
While classic white cabinets will never go out of style, people are starting to go much warmer with color — think taupe and greige. We've seen homeowners being open to both light and dark woods again, but in a modern way. Forget the '90s cherry; for 2021, it's all about beautiful oak and walnut stained in a way to make them feel very natural.
If you're thinking about going for wood cabinets, it's important to keep the profile in mind. Wood cabinets can look dated if you go for a traditional profile. The biggest trend for the past decade has been shaker (with a recessed center panel), often painted white. Doing a flat front door can be gorgeous in wood, because it allows you to see the intricate grain of the piece. (Also, it's worth noting: Wood cabinets typically are more expensive than painted ones because you're using solid wood instead of a filler panel.)
Floral Wallpapers
At Centered by Design, we've long been a fan of floral wallpaper (here's our guide to the best places to buy wallpaper). A modern take on a classic, almost everyone responds well to it — largely because there's so much variety, with florals available in every scale, type and color from so many different makers. Complementing all the florals we're seeing in fashion now, floral wallpaper has a certain romantic quality that can add a feminine feel to any room. We expect this trend of all floral, all the time, to continue steadily throughout 2021.
Fluted Decorative Detail
Also known as tambour, this type of fluted decorative detail first popular in the '80s (remember the appliance garage?) is showing up everywhere from cabinets to walls and furniture. Similar to reeding, it has an almost Art Deco vibe thanks to the way it appears to "roll." With a look similar to beadboard, it can add texture and movement to almost anything.
---
3 Design Trend Predictions for 2021
It's all about making your home a more enjoyable, comfortable and beautiful place to be.

Focus on the Home Office
With so many now working from home, people are looking to create a very separate work space that also feels a little luxurious. When you're unable to go anywhere, your surroundings make a bigger difference — so we're starting to see more investment in home offices, with high-end details like wall paneling, luxe carpet and fancy lighting. You don't have to dedicate an entire room to a home office, though — just use whatever you have, even if that takes the form of clearing a large closet. Skip the office furniture and opt for beautiful, smaller-profile pieces that allow you to carve out a sacred space to work separate from your personal space.
Mini Flush Mounts
This can be a love-it or hate-it type of look, but we're excited about the concept of using tiny flush mounts instead of can lighting, most commonly in kitchens and hallways. We see design moving away from minimalism and getting more decorative, and these mounts are just another way to add a level of design interest. (By the way, we love them!)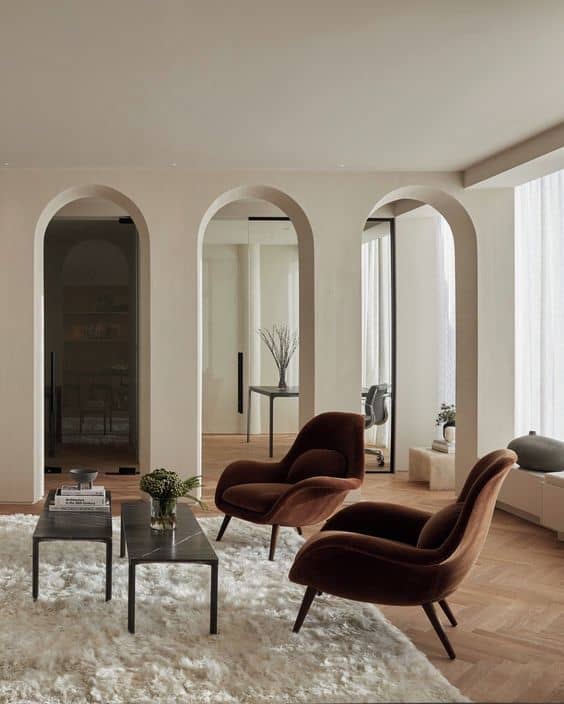 Curvy Design
Another trend that harkens back to the '80s is the idea of curved doorways, furniture and cabinet profiles. Instead of just doing a typical square opening, for example, we're seeing more homeowners opt for a version of an arch. This is a softer approach to design that has European roots as well. In fact, our team just did our first curved island — picture a standard rectangular island, but with clipped corners. We see this shapely trend continuing to gain steam in the new year. (Fun fact: Our favorite Lulu and Georgia also named arches and curves as a trend in 2020!)
Now, Tell Us…
What trends are you seeing for 2021? It's interesting to look back and reflect on home design trend predictions from this time last year, such as this one. You can also read more trend predictions for the year ahead from here and here.
For even more design inspiration, see our list of favorite interior design books. You can't go wrong with these, which skip trends and help you curate a classic look for your home.
We'd love to help you with your home design projects in 2021. Get in touch and tell us about your plans!