This summer, I decided it was time to finally renovate the bathroom on the main floor of our Chicago bungalow — the only room in the house we hadn't yet touched — while I was nine months pregnant. (After all, there's nothing like an imminent birth to help you stay on schedule with renovation plans, right?) My vision was to create something classic, yet also fun and on a budget. Our plan is to sell this home in one to three years, so the bathroom update needed to be something that would be widely appealing and add resale value. A black and white color palette would satisfy all those requirements, but I knew I didn't want it to be basic. Here's how we laid the groundwork for the design approach to black and white in a unique way.
Black and White Bathroom Inspiration Photos
I turned to Pinterest to help me find inspiration and curate ideas for our black and white bathroom reno. Here are four favorites from which we ultimately pulled bits and pieces to come up with the perfect black and white bathroom design for our home.
I love how this room incorporated a black border around the wall tile, which gives it a more defined and "finished" look. The chrome faucets are also a nice touch.
Bringing in more substantial wood tones through antique furniture, along with adding a table lamp, brings warmth to this black and white bathroom — which could otherwise could have taken on a sterile vibe.
The beautiful arched mirror above the bathtub in this bathroom really steals the show, complemented nicely by the vintage chandelier. I like the more intricate tile floor in this one, as well.
This black and white bathroom feels more vintage, a look that's achieved by using a creamier white paint and brown grout in the floor tile. Antique accents like the chandelier and rattan basket add texture and an organic, more relaxed vibe.
My Design Plan
This is where we are started. I was definitely ready to say goodbye to these mint green countertops!
Creating a design board is one of the early steps in our design process at Centered by Design and it's such a helpful tool that I do this even when designing for myself! I put the key inspiration photos on this board, and each piece I planned to include.
Where to Save and Where to Splurge on Black and White Bathroom Renovations
Knowing we wanted to keep this black and white bathroom reno on budget, I carefully chose where we'd spend and where it was smarter to save. Take a look at the final result of our bathroom and my spending tips:
SPLURGE: Floor tile. This is important because it sets the tone for your entire black and white bathroom look. I prefer to use marble tile on bathroom floors for a luxurious look. You can get well-priced marble mosaics from The Tile Shop, and The Builder Depot also has affordable marble tile.
SAVE: Wall tile. You can go inexpensive here and pick up wall tile at a store likeThe Home Depot. The brand Daltile has a lot of affordable options.
SPLURGE: Plumbing. You should get the best in your price range for pieces like shower heads and faucets because you'll be using them daily and probably never change them out. We used plumbing from Brizo in our bathroom reno, but I also recommend Build.com for plumbing from good, reputable brands.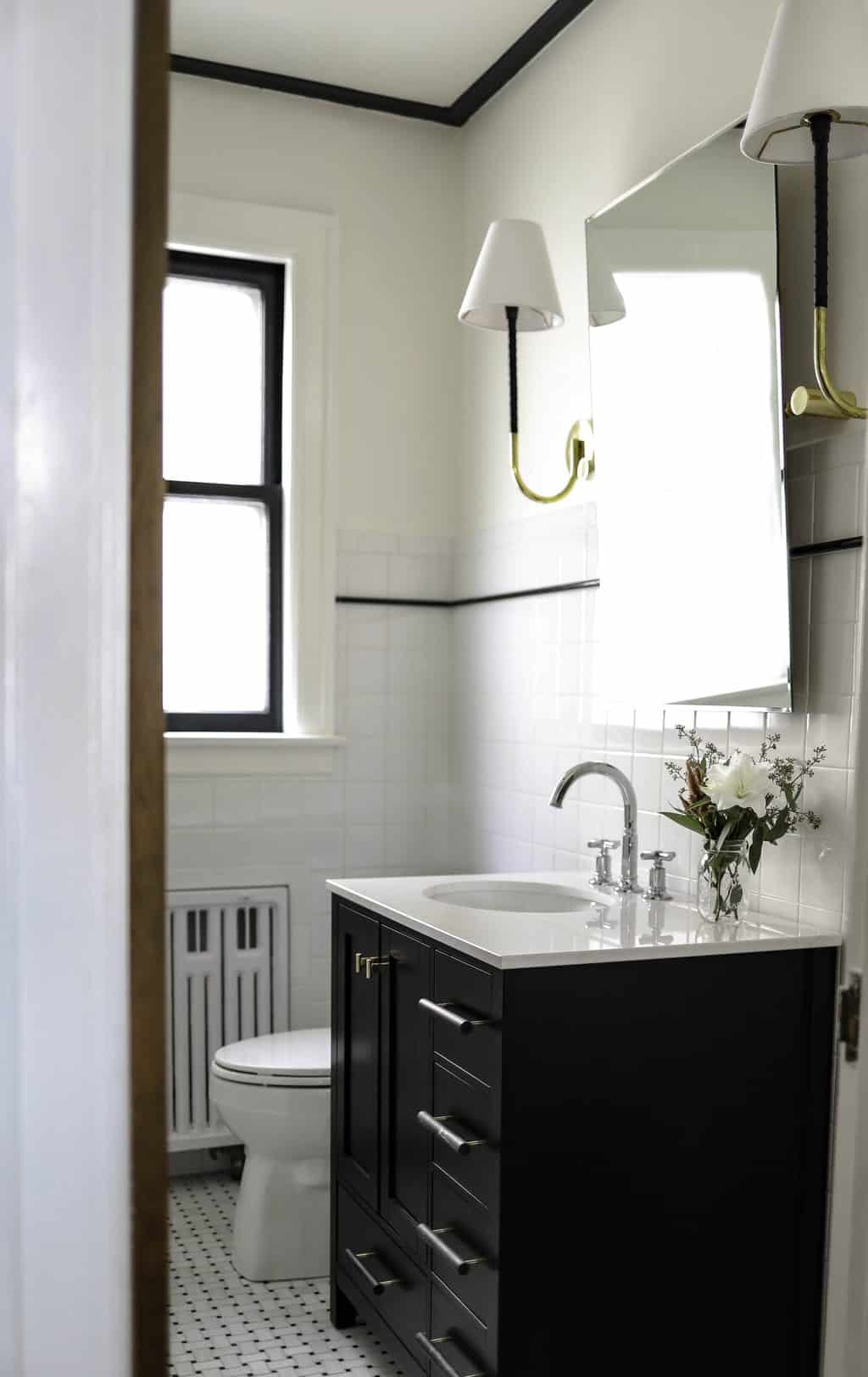 SAVE: Toilet. A basic toilet from The Home Depot will do the trick. We recommend the Santa Rosa model by Kohler, which is a single piece so it's easier to clean.
SPLURGE OR SAVE: Vanity. How much to spend depends on your situation. If this is for your forever home, I highly recommend high-end custom cabinetry (learn about Centered by Design's custom cabinetry services here!). If it's not a home you plan to stay in a long time, you can find some great vanities online and with local retailers. In our home, we went with an option from Wayfair and made it look higher-end by changing out the hardware.
SPLURGE OR SAVE: Accessories. Things like lighting, mirrors, and hardware are all up to your personal choice. It's safe to go mid-range on many of these items. For our reno, we used pieces from CB2 and Pottery Barn.
Want to see more of my home? See our fall home tour and spring home tour.
We want to hear from you!
Are you thinking about designing a black and white bathroom? Share your questions in the comment below or email us to learn more about Centered by Design's interior design services. We can't wait to hear from you!